MAMTC Alliance Partners (MAPs)
We have presented in previous MAMTC newsletters our new business model, one that we refer to as a Hub and Spoke model. In essence, the goal of the Hub and Spoke Model is to coordinate the vast MAMTC partner resources to quickly and comprehensively identify and address your needs as a small or medium sized manufacturer. We realize that every company has challenges to growth, and there are no cookie cutter solutions to all challenges. There may be a variety of barriers to growth, and some solutions will work better in some instances than others.
We are proud to recognize the MAMTC Alliance Partners, or MAPs for those who prefer acronyms. This group represents the areas of focus that we determined to be most pressing for the Kansas manufacturing sector based on the Needs Assessment that we developed last year. We are proud to work with this group, and we will be more than happy to introduce them to you as well.
These individuals and their businesses provide services in areas such as business and strategic planning, sales and marketing, website development, finance, succession planning, legal, operations management and custom technology development to name a few. MAMTC will continue to internally develop and deliver Lean Manufacturing services utilizing primarily internal staff that has the capability and training to deliver these high impact services.
The combination of MAMTC, the MAPs shown above, and our funded partners (Hutchinson CC, WATC, KCKCC, Washburn TC, WyCo EDC, Pittsburg State, or Talent Supply Coalition) are key to helping drive the manufacturing economy across the state. If you are a manufacturer and want to know more about how our services could benefit you, please contact Jaylene Shea or Loren Weeks. These two individuals are MAMTC's Regional Directors in Wichita and Kansas City respectively.
Jaylene Shea                                      Loren Weeks
jshea@mamtc.com                           lweeks@mamtc.com
(316) 268-1140                                  (913) 967-1210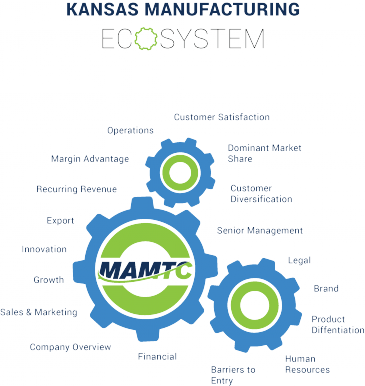 ---