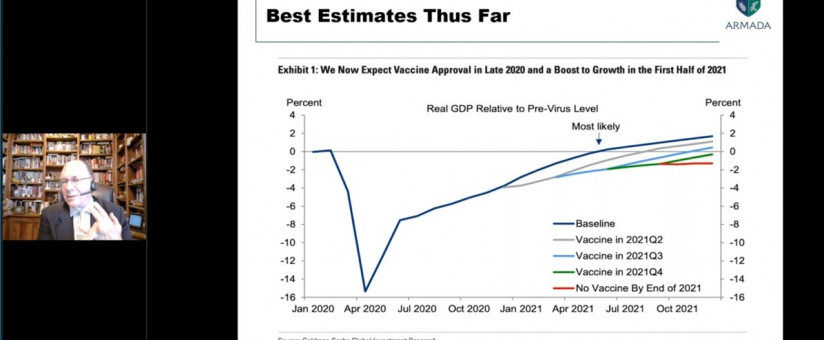 Kansas Manufacturing Solutions has partnered with Chris Kuehl and Armada Corporate Intelligence to provide Kansas manufacturers forward looking economic insight.  The objective of the KMS - Armada partnership is to provide economic data, and an understanding of what that data means, to manufacturers so they can make informed business decisions in the midst of the uncertain and changing economic conditions that have resulted largely from the COVID-19 pandemic. 
Armada is a corporate intelligence firm specializing in analyzing the market forces bearing down on businesses. They use proprietary methodologies built over the past 20 years to process and understand what's happening in your world today.
Chris is a Managing Director of Armada Corporate Intelligence and one of the co-founders of the company. He has been Armada's economic analyst and has worked with a wide variety of private clients and professional associations in the last 18 years. He is also the Economic Analyst for the Fabricators and Manufacturers Association and writes their bi-weekly publication, Fabrinomics, which details the impact of economic trends on manufacturers.  
BENEFITS OF THE PARTNERSHIP FOR KANSAS MANUFACTURERS
On January 21, Chris presented some of his economic expectations for 2021 in a webinar for Kansas manufacturers.    
A recording of the webinar can be accessed HERE for playback.
Additionally, you can download the presentation HERE.
With the KMS – Armada partnership, Chris will be participating in three additional quarterly webinars.  The next webinar is scheduled for April 22nd from 10am – 11am.  You can register to attend this webinar HERE.
With the goal of making this webinar series as relevant to your needs as possible, we have created a very simple, brief survey for you to complete, providing you the opportunity to let him know what you want covered in the upcoming webinars.  Thank you for participating HERE.
Also, through the KMS – Armada partnership, KMS has purchased a 12-month subscription for you to Armada's Black Owl Report (BOR).  This report, distributed on Tuesdays and Thursdays, provides insight on current economic conditions.  Distribution of the report will start the week of January 25, 2020.  If you have not indicated your desire to receive a subscription when you registered for the webinar, you can request a subscription HERE.
Last of all, if you have any additional questions for Chris, please feel free to email them to KMS at KMS@wearekms.com   We will work with Chris to obtain an answer for you.   
---