Lean Six Sigma Training - Do More With Less
Friday, January 20, 2023 -

8:00am

to

2:30pm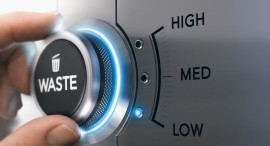 Details
A unique 3-day training class that will help you maximize productivity!  
Lean Six Sigma manufacturing principles can be applied to an organization to maximize productivity – effectively filling critical gaps in production using existing material resources and workforce talent.
And with potential cost savings from the use of Lean Six Sigma principles, that money can be reinvested into other areas of the business such as employee retention efforts, increased training, or automation.
The benefits of attending this training are:
Learn the Lean Six Sigma principles and how to apply them to your manufacturing business
Hands-on simulations provide real-life examples of how LEAN principles can be incorporated into your business
You will learn how to maximize your existing resources so you can accomplish more with less (this includes workforce)
Improve your bottom-line
Some of the topics covered include:
The history of Continuous Improvement
Lean Six Sigma principles
How to analyze the flow of a product through the production process which includes inefficiencies (wastes) and bottlenecks
Project prioritization and management techniques to ensure a positive outcome
Learn to use tools for production variance analysis, line balancing, resource utilization, change over reduction
Assemble standard work including standard operating procedures
Discover the importance of Total Productive Maintenance and how to begin the implementation
Learn the most effective techniques and strategies for sustaining the change as well as how to deal with resistance that always comes with change
Lunch will be served each day.
LOCATION:  Hutchinson Community College Blue Dragon Room, 1300 N Plum St, Hutchinson, KS 67501
TRAINING DATES:  (three day training event)
January 20          8am - 2:30pm
January 27          8am - 2:30pm
February 3          8am - 2:30pm
COST: $399
*Class size is limited to 16 attendees, so register right away!  
We look forward to sharing this amazing content with you to help you maxmize productivity and accomplish more with less.
---