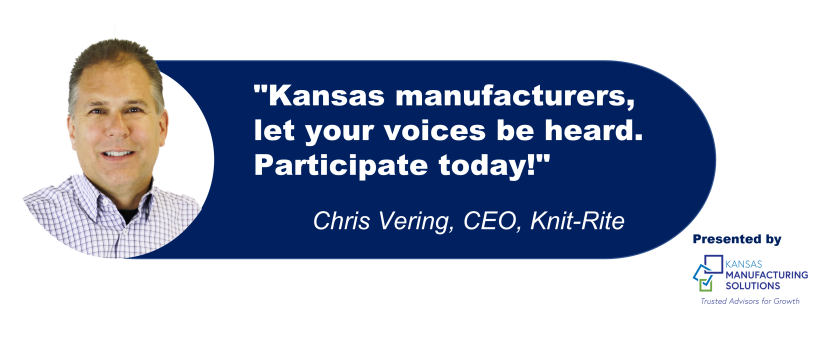 Kansas Manufacturers, make your voices heard. (and enter for the opportunity to win $500!)
Surveys are annoying.  We get it.  However, if you are a manufacturer, this one is important to you!
Kansas Manufacturing Solutions and the Kansas manufacturing ecosystem want to understand your current business conditions. We are asking you to spend less than 10 minutes participating in the third annual state-wide manufacturing industry questionnaire.
Your responses are anonymous and confidential. 
The questionnaire is being administered by a third-party organization. 
Responses cannot be linked to companies or individuals. 
The overall results of the questionnaire will be shared in summary only. Individual responses will not be reported in any way.
Why take the survey?  Because it's important.      
Completing this questionnaire is a chance to make a real impact on how key stakeholders in manufacturing make decisions in the future.  The results will help shape the offerings and services of manufacturing support organizations, workforce training programs, your local economic development organizations, and more.
The final aggregated results will be shared widely.  When we release the results in the early winter of 2022, you'll receive a copy of the results report so you can see how your company matches up with other Kansas manufacturers in your industry.
You will also have the chance to be entered into a drawing for an opportunity to win an awesome prize!  We are giving away one (1) $500 gift card and five (5) $100 gift cards! 
3 drawings for $100 have taken place.  One winner works at Wenger, while the second winner works at Pivot International.   The third winner is being contacted.  The last two drawings will take place on December 2nd, and December 9th.  The final drawing for $500 will take place on December 9th!  Participate TODAY for more opportunities to win!
Most of all, this is a chance to make your voice heard on issues that matter to your business!   
This questionnaire for manufacturers, which consists of 30 multiple choice questions, will take approximately 10 minutes to complete. This survey is only for businesses that produce physical goods, with production locations in Kansas, and all responses are anonymous and confidential.
Kansas Manufacturing Solutions thank you for participating in this survey, as well as being an important contributor to your local, state, and national economy. 
Hurry, as the questionnaire will close on December 9th!
Rules of the drawing can be found HERE
---