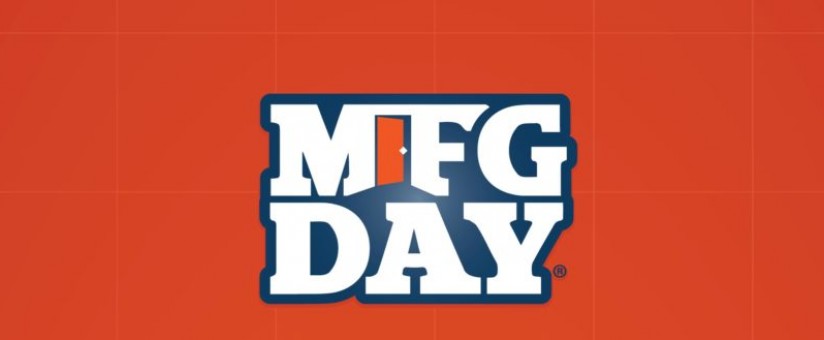 National Manufacturing Day 2019
Friday, October 4, 2019
National Manufacturing Day is observed annually on the first Friday in October. Kansas Manufacturing Solutions celebrates Kansas manufacturers who develop and manufacture products that grow our economy. They create jobs through entrepreneurship, and their competitiveness revitalizes American manufacturing.
 
On National Manufacturing Day Kansas manufacturers will open their doors and take up the important work of inspiring our young people to pursue careers in manufacturing and engineering. Today's science, technology, engineering, and math graduates will power the next chapter of American production and innovation, and harnessing their potential is an economic imperative.
2019 MANUFACTURING DAY EXPERIENCES
What is Manufacturing Day?
Manufacturing Day℠ is a celebration of modern manufacturing meant to inspire the next generation of manufacturers. It addresses common misperceptions about manufacturing by giving manufacturers an opportunity to open their doors and show what manufacturing is — and what it isn't. By working together during and after MFG DAY, manufacturers will begin to address the skilled labor shortage they face, connect with future generations, take charge of the public image of manufacturing, and ensure the ongoing prosperity of the whole industry.
Participate in a Manufacturing Day Event   
Resources for Parents and Students
Kansas MFG Day Events
Allegion
Olathe, KS 
October 23, 2019 Invitation only
As an Olathe distribution facility and light manufacturer, we employ more than 150 workers in the community....VIEW DETAILS 
CertainTeed Saint-Gobain
McPherson, KS
October 9, 2019 2:00pm
We will showcase our facilities, opportunities for future employment in manufacturing and growth within our company. We will also showcase how...VIEW DETAILS
CertainTeed Saint-Gobain
McPherson, KS
October 11, 2019 1:00pm
We will showcase our facilities, opportunities for future employment in manufacturing and growth within our company. We will also showcase how...VIEW DETAILS
City of Fort Scott. Fort Scott Chamber of Commerce, Fort Scott Community College
Fort Scott, KS 
October 4, 2019 
Middle school students, high school students, and the community will be able to tour three of six participating manufacturing plants in the Ft...VIEW DETAILS
Dodge City/Ford County Development Corporation
Dodge City, KS
October 4, 2019 11:00am
140 high school students will tour four different manufactures throughout the day. They will have lunch and listen to speakers at the Dodge City...VIEW DETAILS
Ferguson Productions
McPherson, KS
October 9, 2019 10:00am - 10:45am
Each event will consist of a brief overview of Ferguson Production and a tour of our state-of-the-art custom plastic injection molding plant...VIEW DETAILS
Fuller Industries, LLC
Great Bend, KS 
October 4, 2019 5:00pm - 8:00pm
The Great Bend Chamber of Commerce & Economic Development is partnering with Fuller Industries, LLC to celebrate Manufacturing Day...VIEW DETAILS 
INX International
Edwardsville, KS
October 3, 2019 - Invitation-Only
Join INX International Ink Co. to learn about the ink-making process of your favorite canned beverages! You will also get to learn about Inx...VIEW DETAILS
Kansas Manufacturing Summit
Manhattan, KS 
October 2, 2019 8:00am - 4:00pm
The 3rd annual Kansas Manufacturing Summit is hosted by the Kansas Manufacturing Council, Kansas Chamber, and Kansas Department of Commerce...VIEW DETAILS 
Labette Community College/Workforce Education Dept.
Parsons, KS 
October 25, 2019 10:00am - 12:00pm
Labette Community College Workforce Education Department has a brand new facility that currently houses our welding program... VIEW DETAILS
Midtown Signs, LLC
Kansas City, KS 
September 27, 2019 3:00pm - 6:30pm
We will also be hosting an after hour open house and cocktail hour from 3:00pm to 6:30pm ... VIEW DETAILS
Pfizer McPherson
McPherson KS  
October 16, 2019  Invitation only
Please join us at 2pm on October 16 for an overview of Pfizer's McPherson operation and the opportunity to hear from Pfizer colleagues about...VIEW DETAILS
Power Flame Inc.
Parsons, KS 
October 4, 2019 Invitation Only
We are inviting in 8th graders from Parsons, Service Valley, and potentially Altamont schools... VIEW DETAILS
Summit Truck Bodies
Wathena, KS 
October 4, 2019 8:00am - 2:30pm
Summit Truck Bodies, a custom manufacturer of service and lube truck bodies will be hosting a manufacturing event to educate those that are unfamiliar... VIEW DETAILS
Superior Boiler
McPherson, KS 
October 4, 2019 9:00am - 1:00pm
Superior Boiler is proud to be a host for Manufacturing Day 2019. We will be providing tours for local schools, community college student...VIEW DETAILS
Textron Aviation
Wichita, KS 
October 4, 2019 Invitation only
Textron Aviation will host 200 8th grade students from Wichita Public Schools for a day of manufacturing focused activities led by Textron Aviation...VIEW DETAILS
The Bradbury Co., Inc.
Moundridge, KS 
October 3, 2019 8:00am - 6:00pm
Join us for tours of our facility and plants. We will be open for student tours starting at 8:00 am. Please call 620-345-6394 to schedule a specific time for your students to arrive.  General public tours start at 2:00pm..... VlIEW DETAILS
The Bradbury Co., Inc.
Moundridge, KS 
October 4, 2019 2:00pm - 6:00pm
A Manufacturing Career Exploration Center will be held for all to visit to learn more about the career opportunities manufacturing has to offer and engage with Bradbury's manufacturing professionals. Technical College Representatives will also be on site to provide information about post-secondary education options related to manufacturing...... VIEW DETAILS
The Grasshopper Company
Moundridge, KS 
October 3, 2019   7:00am - 2:30pm
The Grasshopper Company will be hosting tours of our manufacturing facility in Moundridge, KS for educational programs. ... VIEW DETAILS
The Grasshopper Company
Moundridge, KS 
October 4, 2019   7:00am - 2:30pm
The Grasshopper Company will be hosting tours of our manufacturing facility in Moundridge, KS for educational programs. ... VIEW DETAILS
Viega LLC
McPherson, KS
October 4, 2019 9:00am
Viega LLC will be hosting tours of our manufacturing campus. Tours will include our extrusion, molding, metal fitting and logistics divisions...VIEW DETAILS
Washburn Institute of Technology
Topeka, KS 
October 17, 2019 8:30am - 2:30pm
Our event this year will be in conjunction with a Washburn Tech Open House inviting students, parents, educators to tour and to explore the opportunities... VIEW DETAILS
WSU Tech
Wichita, KS 
October 4, 2019 - Invitation-Only
Students will receive a tour of WSU Tech's main campus, the National Center for Aviation Training. Students will also have an opportunity to... VIEW DETAILS
---