Manufacturing Day 2019 Experiences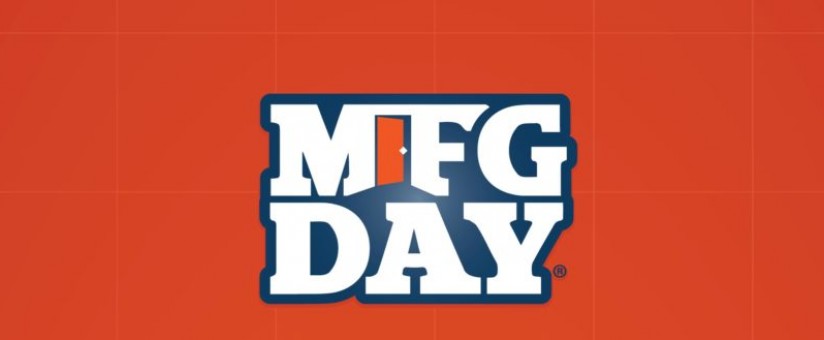 Manufacturing Day addresses common misperceptions about manufacturing by giving manufacturers an opportunity to open their doors and show, in a coordinated effort, what manufacturing is and what it isn't.  By working together during and after Manufacturing Day, manufacturers will begin to address the skilled labor shortage they face, connect with future generations, take charge of the public image of manufacturing, and ensure the ongoing prosperity of the whole industry.
There were some wonderful events that took place on Friday, October 4th.  There are still many more events on the calendar throughout the month of October.  
SUMMIT TRUCK BODIES
Summit Truck Bodies in Wathena, KS hosted two separate events; one in the morning and another in the afternoon.  The sessions were interactive, allowing students to race against the clock operating a hydraulic crane through a small obstacle course.  The students followed the truck body development process from start to finish, observing automated lasers and welders, as well as hands on processes of experienced employees.  Summit has a strong internship program that the students can consider applying for.  
FULLER INDUSTRIES
Fuller Industries participated in MFG Day with two other manufacturers located in Great Bend, Kansas.  Fuller Industries manufactures branded and private label products for personal care as well as commercial and household cleaning. It was founded in 1906 by Alfred Fuller.  High school and college students from the local school district and community college toured the facility and heard from CEO, Mark Chalfant.  
NIECE PRODUCTS
Niece Products, located in Fort Scott, has manufactured water and fuel/lube trucks for 30 years.  Capability ranges from 2,000 gallon water trucks to 12,000 gallon water towers and 600 to 4,000 gallons fuel/lube trucks.
Students were encouraged to study Additive Manufacturing.  Senior welders at Niece have about 100 years of experience between 4 of them. These Senior welders explained to the students that besides having a great pay rate, they also think Niece is a great place to work.  Some welders at the plant will even drive 94 miles, four days a week, for their 10 hour shifts. 
PEERLESS
Peerless Architectural Windows and Doors, founded in Fort Scott, Kansas in 1952, is a Mid-western manufacturer of high-performance aluminum architectural and commercial windows for new construction, replacement and historical construction.   Chase Warner of Peerless said "I look forward to Manufacturing Day. Been participating for years. Love to see the students. I'm usually traveling for work. Glad to be here today."
KANSAS CITY KANSAS COMMUNITY COLLEGE
Kansas Manufacturing Solutions' Danica Rome spoke to about 50 students who were attending Manufacturing Day activities at Kansas City Kansas Community College.  The students also toured local manufacturers, including ink manufacturer INX International, to see what really goes on in today's manufacturing workplace.
DODGE CITY COMMUNITY COLLEGE
Dodge City Community College hosted a Manufacturing Day event with 140 high school students touring four local manufacturers in the morning, enjoying lunch with Dodge City Community College President, Harold Nolte, Jr, and then touring the college's technical programs.   
---