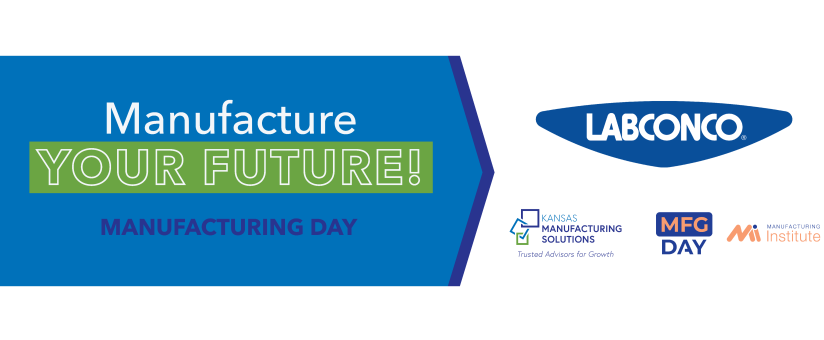 REQUEST your co-branded banner to promote you Manufacturing Day activity! 
National Manufacturing Day 2023 is Friday, October 6th and Continues Throughout the Month.
National Manufacturing Day is observed annually on the first Friday in October. Kansas Manufacturing Solutions celebrates Kansas manufacturers who develop and manufacture products that grow our economy. They create jobs through entrepreneurship, and their competitiveness revitalizes American manufacturing.
 
Many Kansas manufacturers will open their doors to take up the important work of inspiring our young people to pursue careers in manufacturing and engineering. Today's science, technology, engineering, and math graduates will power the next chapter of American production and innovation, and harnessing their potential is an economic imperative.
What is Manufacturing Day?
Manufacturing Day℠ is a celebration of modern manufacturing meant to inspire the next generation of manufacturers. It addresses common misperceptions about manufacturing by giving manufacturers an opportunity to open their doors and show what manufacturing is — and what it isn't. By working together during and after MFG DAY, manufacturers will begin to address the skilled labor shortage they face, connect with future generations, take charge of the public image of manufacturing, and ensure the ongoing prosperity of the whole industry.
Participate in a Manufacturing Day Event   
Request a free co-branded Manufacturing Day vinyl banner from KMS that can be hung at your facility during a Manufacturing Day event or throughout the month of October.  Request a Banner 
Let us know if you need help creating a Manufacturing Day event or registering and promoting your existing event!  Help Us Out  
2022 Kansas Manufacturers' MFG Day Events
Viega LLC: Tour and Career Fair
McPherson, KS
10.07.22
8:00am - 3:00pm
The Grasshopper Company: Grasshopper Facility Tours
Moundridge, KS
On-going
More Information
Celco, Harper Industries, & Cox Machine: Harper County T2C Manufacturing Day
Attica, KS
10.06.22
8:45am - 1:00pm
Textron Aviation
Wichita, KS
10.07.22
9:00am - 2:30pm
McPherson Concrete
McPherson, KS
10.11- 10.14.22
MORE INFORMATION
Milacron
McPherson, KS
10.12.22
10:00am - 2:00pm
MORE INFORMATION
Pfizer
McPherson, KS
10.12.22
9:00am - 12:00pm
Plastics Extrusion Machinery LLC
McPherson, KS
10.7.22
8:30am - 4:30pm
The Bradbury Group
Moundridge, KS
10.5.22
8:30am - 4:30pm
Allegion PLC
Olathe, KS
10.19.22
11:00am - 1:00pm
---