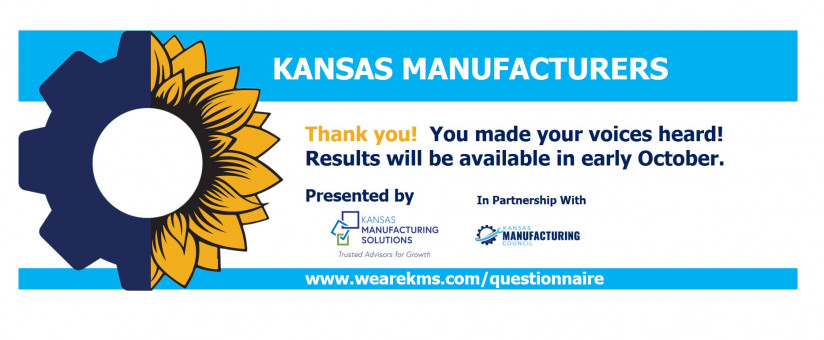 CONGRATULATIONS to Bert Benton and Dave Cox.  These are the two winners randomly drawn from the pool of participants of the 2020 Kansas Manufacturing Industry Questionnaire.  Each will be receiving an collectible autographed by Patrick Mahomes.  
Kansas Manufacturers, you have made your voices heard.
The 2020 Kansas Manufacturing Industry Questionnaire period is closed.  We are getting started on analyzing the data Kansas manufacturers provided.  Results should be available by October 2.
As a Kansas manufacturer, you have faced numerous challenges in the last 12 months.  Kansas Manufacturing Solutions and our private and public sector partners, including the Kansas Manufacturing Council, want to support you in your company's growth and success. To do that, we asked Kansas manufacturers to spend 15 minutes taking our first annual state-wide manufacturing industry questionnaire.
Responses were anonymous and confidential. 
The questionnaire was administered by the National Business Research Institute, a third-party organization. 
We could not link survey responses to actual companies or individuals. 
The overall results of the survey will be shared in summary only. Individual responses will not be reported in any way.
Why should you have completed the questionnaire?    
Participating in this questionnaire was a chance to make a real impact on how key stakeholders in manufacturing make decisions in the future.  The results will help shape the offerings and services of manufacturing support organizations, workforce training programs, your local economic development organizations, and more.
The final aggregated results will be shared widely.  When we release the results in the fall of 2020, participants will receive a copy of the results report so they can see how their company matches up with other Kansas manufacturers in your manufacuturing industry.
You also could have had the chance to be entered into a drawing for an opportunity to win one of two items autographed by Patrick Mahomes.  Winners will be announced on August 3, 2020.
Most of all, this was a chance to make your voice heard on issues that matter to your business!   
This questionnaire for manufacturers, consisted of 28 questions and took approximately 15 minutes to complete.  This survey was only for businesses that produce physical goods, with production locations in Kansas, and all responses are anonymous and confidential.
We look forward to your participation in the second annual state-wide Kansas Manufacturing Industry Questionnaire in 2021!
Kansas Manufacturing Solutions and our partners thank you for participating in this survey, as well as being an important contributor to your local, state, and national economy. 
The Kansas Manufacturing Solutions Team
---