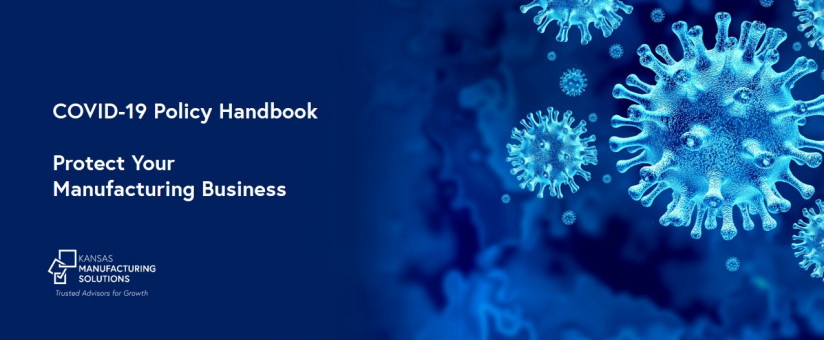 Mitigate Risk of COVID-19 Related Liability Lawsuits
Kansas Manufacturing Solutions has a special offer for a limited number of Kansas manufacturers. (Get an employee handbook with a COVID-19 addendum at a HUGE discount!) 
Many experts recommend businesses have a written COVID-19 policy in place to protect themselves from liability lawsuits related to COVID-19, as it exhibits that the business is acting pursuant to and in substantial compliance with public health directives applicable to the activity giving rise to the cause of action when the cause of action accrued.  
The written COVID-19 policy provides other benefits as well: 
Establishment of protocol expectations for employees
Reduction of employee fear of uncertainty
Communicates to the employee that the employer cares about their safety
Kansas Manufacturing Solutions, through the National Manufacturing Extension Partnership Program of which KMS is the Kansas representative, has received a limited amount of CARES Act grant funding that can be applied to the development of COVID-19 policy handbooks for manufacturers.  This grant funding will reduce the expense of the handbooks substancially.  Availability of handbook development is limited and can only be offered on a first-come, first-served basis.  
Available handbook solutions are:
1)     COVID-19 Policy Handbook
With this package, only COVID-19 related policies such as but not limited to, PPE requirements, lunch break policy, requesting time off / sick leave and CARES Act policy will be created. Other required policies such as non-discrimination, non-harassment, non-retaliation, NLRB language are not included, which leaves the company at risk for non-COVID-19 related employer issues.
The fee for development of this handbook is $1,050. 
KMS will subsize the cost of the COVID-19 policy handbook addendum. (so free to KS manufacturers)
2)     BEST OFFER!  New legally reviewed and customized Employee Handbook plus supplemental COVID-19 Policy Handbook
This option provides a comprehensive risk reduction and employee engagement focused Employee Handbook, and a supplemental COVID-19 handbook. The Employee Handbook is legally reviewed and includes customized policies such as your benefits, paid holidays, dress policy, PTO program. KMS partner KR-HR will work closely with owners/senior leaders to understand existing policies, new practices, and make suggestions on additional policies or approaches. The Employee Handbook and supplemental COVID-19 policy handbook are created concurrently.
The two handbooks only cost $2000, which is typically the cost of just an Employee Handbook.
KMS will subsize the cost of the employee handbook with COVID-19 policy handbook addendum. (so free to KS manufacturers)
Take advantage of this limited time, limited availability offer by requesting a handbook today.
---