Human Food PCQI Certification
Wednesday, April 22, 2020 - 9:00am

to

Friday, April 24, 2020 - 3:00pm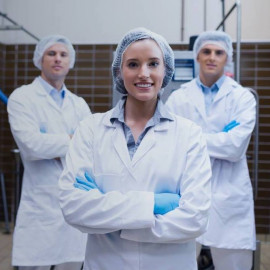 Details
We are postponing this event to a future, undetermined date.
Food Safety Preventive Control for Human Foods Training. PCQI Certification.
RESERVE YOUR SEAT. PLACES ARE LIMITED
FSPC/PCQI certification is a requirement of FSMA.  The certification is intended to ensure safe manufacturing/processing, packing and holding of food products for human consumption in the United States. The regulation requires that certain activities must be completed by a "preventive controls qualified individual" who has "successfully completed training in the development and application of risk-based preventive controls". This course developed by the FSPCA is the "standardized curriculum" recognized by FDA; successfully completing this course is one way to meet the requirements for a "preventive controls qualified individual."
These courses are taught by Lead Instructors trained by the FSPCA, who have been instructed in how to teach the FDA-recognized standardized curriculum.
Dates: April 22, 9:00 a.m to April 24 Noon
Place: K-State Campus: 206 Call Hall. 1530 Mid Campus Dr, North, Manhattan, Kansas
Fees: $400/person.  $200/ Additional person from same company. Payment on site during first day of training.
Covers Tuition, training material, breaks and $50 certificate issued by the Association of Food and Drugs Officials (AFDO).
Registration: 
We are postponing this event to a future, undetermined date.
FAQS
What are the hours for each day?
               - April 22nd and 23rd from 9 a.m. to 5 p.m. April 24th from 9 a.m. to noon.
 
How does parking work?
               -You will be provided with a visitor parking pass when you check-in
 
Will lunch be provided?
               -No, you will need to get lunch on your own
 
Will snacks be provided?
               -Yes
 
How should I pay when I check-in?
               -Check is preferred
 
How do I get my certificate?
               -It will be sent to you in an e-mail


This event is sponsored by K-State in cooperation with the Kansas Department of Agriculture and Kansas Manufacturing Solutions, LLC.

 
---