Do you have what it takes to be Average?
Average is a mathematical term typically indicating something in the middle of a group or pack. Most people don't like to think of themselves as average. But there's names for the "average" person. Average Joe, Ordinary Joe, Joe Sixpack, Plain Jane and others are common names for referencing the completely average person. The metrics on Average Joe or Plain Jane can get quite detailed. Did you know that the average person laughs 13 times a day? Or that the average person opens the refrigerator 22 times per day. (Let that sink in for a bit; we open the fridge almost twice as often as we laugh during the course of a day. But that's for another blog on another day).
But what about your business? How does it compare to others in your industry? Are you "average" in terms of various key metrics to others within your manufacturing sector? Sometimes we're so busy running our operation that we don't take the time to "measure up" to others, using this information to improve our performance accordingly. In other words, how do you become extraordinary instead of ordinary?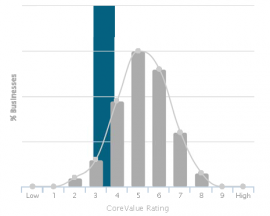 Great question. MAMTC has an assessment tool called
CoreValue
that helps companies compare themselves easily to other companies in their specific business sector. By knowing how you stand against others, you can strategically decide where to focus your improvement and growth resources. Or not, which is ok too.
By analyzing your business against others, you as the business owner or manager can have renewed confidence in your efforts. "Should I be focusing on a better product mix?"  "Are my quality programs keeping up with industry needs?" "How much better would my business be if I improved my internal operations?" These are all good questions, and can often prevent company leaders from creating an action plan to answer these questions.
When a client is introduced to the 18 Value Driver Framework within CoreValue, they are presented with a new way of looking at their business and a new way to approach their challenges. You may say: "I already know my [Insert Value Driver Here] is weak..." But do you know how much it is costing you? Do you know what caused the problem, let alone how to fix it? Do you know the depth and details of the problem? And when you say an area of their business is strong, is it really? Do you have the information and data to back up your claim? By breaking down their operations into manageable pieces, you can begin to see a roadmap to closing the Value Gap between your current business and future business value.
Consider the impact of having all your businesses measured using the same metrics. With very little modification to your existing intake process you will now have a standard for how they are measured, the results of those measurements, and how they compare to each other within the industry, and across a host of like businesses.
MAMTC would like an opportunity to demonstrate CoreValue to you, and for you to see how it can provide insight and value to your business. To that end, MAMTC is offering to the first 10 requestors an opportunity to receive a CoreValue Unlock report, valued at $2,500. This report includes analysis of value gaps and specific tasks to implement to close these identified gaps. If you're interested, please click here and let's get together to assess your business operation. From there, you can create an action plan to enhance and increase the value of your business strategically.
---